This is a post I've been working on for quite some time. I want to take the time to detail some clothing that will work for breast asymmetry! Let me be totally honest with you; while I run a blog for hiding breast asymmetry and seem to be strong and embrace my beautiful breasts, lately I've been self conscious about myself in clothing. I wear my scars and my story LOUD and proud, but I want to look amazing in clothes. I've recently changed jobs, so I've changed my wardrobe. I was teaching Pharmacy Technician classes for about a year, and I wore scrubs every day. The Gray's Anatomy scrubs worked GREAT for me. They were flattering, had a fun V-neck, and hugged my body right under the breast to flatter my figure and draw attention to my chest in a different way. Now I'm back in the pharmacy setting, and dressing up every day (except casual Friday! woot!).
When trying to dress up, I find myself stuck somewhere in the middle. I LOVE looking fierce, but I need to stay in budget, and I need to hide my breast asymmetry. Where do I go from here?
Reality check! The whole point of hiding breast asymmetry is to make your breasts look natural and symmetric. We're not trying to make this a target that says, "Look! I'm hiding something and I've made it painfully obvious!" We want to hide asymmetry while still looking fashionable, classy, and sexy!
Tips For Looking FIERCE With Unique TaTas:
Layer Up!
I get cold ALL THE TIME. It could be 85 degrees outside, and I'm rocking a tank and shorts, but as soon as I get into the AC, I'm freezing. I love wearing shrugs, crops, and cardigans! They add a unique way of being stylish and covering the breasts at the same time. There is a line of clothing I've been purchasing on HSN by Antthony, and ALL of his pieces seem to flatter the body, the breasts, and they work for ... wait for it ... ALL BODY TYPES!
I found this
Lenadee cardigan and top set by Antthony
that was TO DIE FOR. Now, the t-shirt that comes with it wasn't my most favorite ONLY because it hit my torso at a strange spot and almost cut me off, however the cardigan is spectacular. This crosses over and buttons on the sides to create a unique look. The actual cross can be modified to happen further down the torso, to distract from the breast itself, or can be brought up to cover the breasts entirely. The way this piece just flows over the body is amazing and does wonders for hiding breast irregularities.
I also found this piece by Antthony called the New Englander. It is more of a duster/coat, but it's flattering to the form, and, again, draws away from the breast, which is important. This has that dual front that just flows and draws attention to the closure and away from the breast line. If you're a person who can show some cleavage (that looks even) to distract from the fact that your breast profile (your hourglass) is uneven, then DO IT. If you're a person who has to draw attention to the breast profile to distract from the fact that your cleavage isn't as full or symmetric, then these pieces are great for you, too! These can both show a little bit of cleavage if you so choose, but they also distract and hide your breast profile.
A word of warning, for those of you who cannot show breast profile or a full breast attention without feeling uncomfortable, AVOID CARDIGANS LIKE THE ONE FEATURED BELOW. This is not by Antthony, it's just some generic image I found on google. However, cardigans like the one in yellow below are potentially going to draw MORE attention to breast asymmetry. Be careful! These can be cute, but can be a problem. If you absolutely need to have a cardigan on... DO NOT BUTTON IT ALL THE WAY UP. Maybe only button the bottom 2 or 3 buttons. Do NOT allow it to hug the breasts so much.
Shrugs can be amazing, too. For those of you who don't know what a shrug is, it's basically a cardigan in half the size. It can come fully across the breast, or it can just hug the outside shape of the breast. However, these can be worn with a dress or a tank top to not only hide the upper arms, but to draw attention away from the breasts themselves in a unique way. These can help hide any breast asymmetry when it comes to that breast profile (again, that hourglass or side fullness). They're cute, they're fashionable, they're classy, and they help cover you up if you're unsure about showing some arm.
This shrug is a unique cut that would cover any cleavage exposed, and potentially hide some profile issues.
I like how this style is more "tailored," per se. This allows for the breast to be more hidden with the way this hangs from the breast curve.
Crop jackets can be amazing layers, too. These are a little bit longer than shrugs at times (but are pretty much the same thing...). You'll be able to find crops like this one that will provide full breast coverage, but still be absolutely fierce.
These crops just fall off the breast profile, and will allow you to wear a simple shirt underneath to hide asymmetry. This looks wonderfully professional, wonderfully fashionable, and would look amazing with a pair of jeans, big sunglasses, pearls, hot shoes, and a handbag.
For those of you who are thinking I'm crazy for saying a scarf or a necklace could hide your breast woes, let me take a moment to help prove you wrong. For those of you who follow the blog, you'll know that I don't promise every suggestion will work for all women. Our bodies are different, and our degrees of breast asymmetry are different. However, these tricks work for some. Any trick that works for you means it's a success, right?! If you have other tips and tricks, SHARE THEM! When I was a teenager and young woman, there was no internet to help me learn how to hide my breast asymmetry, I had to just learn from heartbreaking trial and error. I don't want women and girls to have to go through that, so I do these blogs! Help share your experiences! Anyway, back to the topic at hand...
A scarf can be fantastic! Scarves can be infinity scarves or regular scarves, and it all depends on how you wear them. Infinity scarves can be worn many different ways, even though they're a complete circle. These scarves will allow you to hide your breasts in a regular outfit, and still look fashionable. Let's say you wore a cardigan like the yellow one featured above. Even if you left it unbuttoned, you still feel self conscious about it. Throw a scarf over it! Voila! You've now hidden the asymmetry in a new way.
A pashmina scarf can do a world of wonders, too. It can be worn like a shawl, can be worn like a scarf, and can provide full coverage.
Now, necklaces can be another great distraction! Necklaces can flow right off the breasts and create a waterfall look to create an illusion of symmetry. This will, as all things do, depend on your degree of asymmetry. However, even if you're dramatically asymmetric, a necklace can always be layered up to help create distractions and illusions. Remember, you don't always want to draw attention completely away from the breasts and draw it to your torso or something, you're going to have to do the natural thing and draw attention to the breasts, and that's where your ability to hide asymmetry comes into play.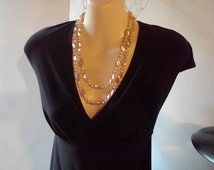 Clothes that FLOW off the body are a great way to hide asymmetry. You don't always want something hugging the body and being form fitting. Sometimes you can hide under something fashionably loose.
I like to find clothing in the summer that covers, but is free feeling. Items that provide coverage, but don't squeeze your figure will allow your body to hide under the fabric, but still give you a shape. Some are more sheer than others, so make sure if you're going very sheer, you are balanced with the shirt and bra you have on under the loose top. Plus, the BoHo look is SO IN right now!
Remember, patterns are always an asymmetric girl's best friend! I'll be doing a whole piece on patterns and designs and unique cuts!